The annual gathering for all things ICT and comms related, MilCIS 2019 has seen the C4I community gather in Canberra for its annual get together, the largest regular conference hosted in the territory, according to ACT Minister for Advanced Technology and Space Industries Mick Gentleman.
Chief Information Officer Steve Pearson opened the proceedings confirming CIO Group's four main priorities:
Enable ADF operations 
Cyber security 
Stable and sustainable information environment 
User focused
"We need to make sure it works in a deployed environment first," Pearson said, commenting on the change of focus for the group that has met with past criticism of a lack of deployed user focus. "That's been a big change for us."
He also confirmed that Defence needed to 'upgrade and maintain our tools while investing in people in the cyber fight'.
"We're working very closely with Head of Information Warfare Major General Marcus Thomson to this end."
He also commented that the joint programs being delivered under ERP and EIM will see 'standardisation and consolidation of hundreds of networks and thousands of applications'. "Technology is coming at us a rate that is impossible to consume," Pearson said. "Our ability to use it effectively is limited to what we apply it to. Doing so many large programs concurrently like Next Gen Desktop, data centre consolidation and the roll out and retirement of major systems concurrently is a challenge in itself. But we are getting towards the end of the infrastructure roll out."
The human face of the technology challenge was addressed by MAGEN Thompson who was blunt in how the speed and breadth of technology is introducing its own challenges.
"Meeting the information challenge that we are all facing means collaboration at every level, setting aside competitive probity when speaking with Defence," MAJGEN Thompson said when speaking about how industry interact with each and Defence in this space. "This is an opportunity to have a different kind of conversation to solve the next set of problems before they hit us. I would much rather talk to your pointy heads than your BD people.
"None of you can bring me a whole of world comprehensive solution to my concerns. None of you. And I don't expect you to. I expect you to work together."
He asked delegates to consider how best to have the cyber debate in the wider public arena, how do we improve cyber resilience at a national level and what is the role for Defence in these two conversations. He was also very aware of the agile nature of his domain as 'the digital world is pushing the way in which technology and politics join and mesh'.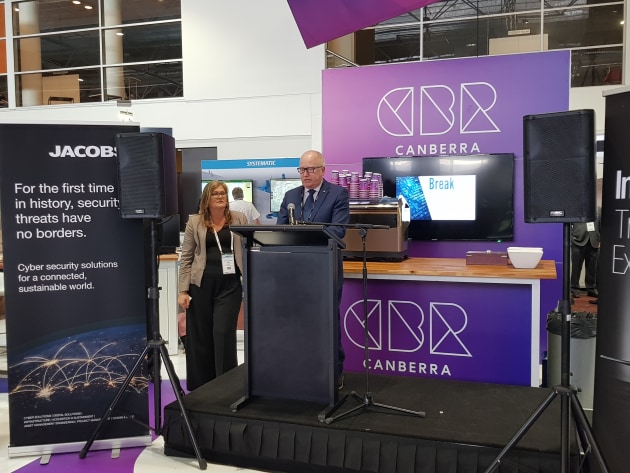 Acting Chief Technology Officer in CIOG Justin Keefe confirmed that the group is looking at adopting cloud technologies at an enterprise level 'within five years' with a long list of caveats attached. A refreshed strategic directions paper is also in the works to replace the current 2016 to 2020 document, to be supported by an accompanying investment plan.
There was an acknowledgement from both Keefe and MAJGEN Thompson that many of the programs in CIOG are hard to pin a final operational capability point against given the iterative nature of the technology they deliver.
But the user community is clear in their demand for an outcome that sees data accessible, anywhere, any time with a high level of reliability and resilience.
"What we're aiming for is real time digital collaboration between any node, anywhere to deliver joint effects," Head of Force Integration Kath Toohey told delegates. "The hardest part of this new wave of technology driven operations will be human commanders letting go and trusting AI and big data to make decisions in nanoseconds that they physically cannot."