With the RAN on the cusp of recapitalising its fleet at a greater tempo than at any time since WWII, major maritime capability programs are inevitably focusing on naval shipbuilding.
Julian Kerr | Sydney
To say that Project Sea 4000 has received a bad rap on its troubled way towards producing three Hobart class Air Warfare Destroyers (AWDs) is probably understating the situation.
The past year saw the project rebaselined for the third time, pushing back delivery of Ship One (Hobart) from December 2014 to June 2017, Ship Two (Brisbane) from March 2016 to September 2018, and Ship Three (Sydney) from June 2017 to March 2020.
At the same time a forensic audit indicated that the $8.5 billion budget would probably need topping up with an additional $1.2 billion to complete the program.
Yet progress is being made, and many of the painful lessons learnt by the Commonwealth within the AWD Alliance grouping the (now disbanded) Defence Materiel Organisation, government-owned ship constructor ASC, and Raytheon Australia, will benefit forthcoming maritime projects.
In May 2015, NUSHIP Hobart was launched 75 per cent complete at ASC's Osborne facility with shore power running through the main switchboard, and by October completion had moved to 88 per cent.
Sequential combat system light off began in November, followed by at least 40 weeks of setting to work the Aegis combat system during which the Australian national elements of the system will be run in parallel.
Sea trials will subsequently take place until early 2017, followed by ship delivery to the RAN.
Meanwhile, AWD Alliance CEO Rod Equid has been able to boast an encouraging 30 per cent improvement in productivity on second-of-class Brisbane, hull integration of which was anticipated before the end of 2015 followed by float off in December 2016.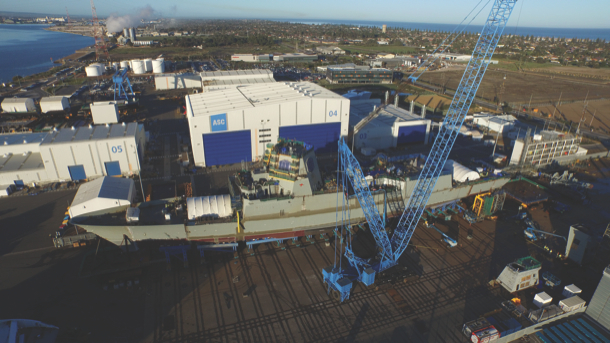 A further 20 per cent improvement is likely on third-of-class Sydney, whose 31 keel, hull and superstructure blocks were all under construction as of November 2015.
Notwithstanding the well-publicised issues with productivity, schedule and management, Equid believes that given a longer build program, by ships 4 and 5 productivity would have been achieved equivalent to that of any other organisation, including Spanish AWD designer and shipbuilder Navantia.
Sea 1180
With construction under Project Sea 1180 Phase 1 scheduled to begin in 2018 – two years earlier than anticipated – on a new class of offshore patrol vessel (OPV) to replace the RAN's 13 Armidale class patrol boats, a fresh challenge awaits the domestic naval shipbuilding sector.
As originally planned, the project was to involve about 20 multirole platforms that would replace not only the 270-tonne Armidales but also the six Huon class coastal minehunters, and the two 2,170-tonne Leeuwin class survey ships.
Now it's expected that the OPV selected initially to succeed the Armidales will support the evolution over the longer term to a new multirole vessel capable of both patrol and mine-countermeasures tasking.
While final OPV requirements and numbers have yet to be confirmed, the general assumption at the Pacific 15 maritime exposition was of an in-service or a highly-mature design of about 80 metres in length, around 1,500 tonnes, capable of more than 24 knots, and able to operate a single helicopter.
BAE Systems is expected to updated the design of its River class OPVs, Singapore Technologies Marine and Navantia are likely to be proposing ships delivered to Oman and Venezuela respectively, while the Dutch Damen Group, DCNS of France and Italy's Fincanterei will offer variants of their respective patrol boats.
A Competitive Evaluation Process (CEP) began in October and BMT Defence Services has been contracted to compile an Analysis of Alternatives. This will advise government and the RAN of designs that could be adapted to Australian requirements and readied for production in time to meet the demanding production schedule.
By mid-2016 a shortlist of around three contenders is expected to be awarded contracts for risk reduction studies prior to final selection and the start in 2018 of a continuous onshore build - not necessarily in South Australia.
Sea 5000 Future Frigate
Construction in South Australia has however been mandated for the Future Frigates that will replace the eight-strong Anzac class under Project Sea 5000, a program that is being accelerated by three years.
With first steel now scheduled to be cut in 2020, long-lead items will need to be ordered in 2018, placing pressure on the selection process and contract negotiation for what will be a large, complex and expensive platform.
In a CEP framework expected to be broadly similar to but more extended than that set out for Sea 1180, contenders supplied limited data to the RAND Corporation to assist in an analysis of the contending designs, with the study completed in late 2015.
However, a delay in government signoff of CEP requirements is understood to have caused frustration on the part of both Defence and industry, with the international contenders unable to obtain clearances from their own governments to provide classified information until the Australian end is agreed and appropriately formalised.
While not making any recommendations, the RAND analysis will inform government and Navy in their selection by March 2016 of three alternatives that will proceed under Phase 2 of the CEP to a one-year risk reduction study partly funded by Defence.
During this time the shortlisted contenders will present ship specifications and their proposals for construction, workforce training, and a five-year support plan.
The Commonwealth will then agree with each party on a design baseline and under CEP Phase 3, institute a competitive Request for Tender (RfT) for either eight or possibly nine frigates, with the emphasis on maximising local content.
With the confirmed top-level requirements of the new platform including force-level anti-submarine warfare (ASW), standoff maritime strike and significant Task Force air defence and Task Group anti-ship missile defence capabilities, likely displacement is now around the 6,000-7,000 tonne range (the Anzacs displace 3,900 tonnes).
Given that the acquisition strategy involves a Military-Off-The-Shelf (MOTS) or an Australianised MOTS, potential contenders include BAE Systems' Global Combat Ship, the Type 26; the Italian and French ASW variants of the FREMM European multi-mission frigate, built respectively by Fincanteiri and DCNS; ThyssenKrupp Marine Systems' MEKO A400RAN; the Light Combat Frigate built by Damen Schelde for the Royal Dutch Navy; and a development of Navantia's F-100 design on which the Hobart class AWDs are based.
COMMENT
The push to accelerate the OPV and Future Frigate programs has less to do with urgently-needed capability – though the Armidale fleet is faltering – than to kick start the government's continuous build policy and initially salvage around 1,000 jobs in the shipbuilding sector that would otherwise have been lost.
The certainty of long-term work has been welcomed by industry, but the decision has come too late for BAE Systems Williamstown yard that will be effectively mothballed in early 2016.
Concerns have also been noted on the possible effect of schedule on capability – will the pressure for an early start to construction allow sufficient time to ensure that the problems experienced by the AWD program are not repeated?
And will the same haste, exacerbated by the delay in approval of the Sea 5000 CEP framework, perhaps favour the selection of the Navantia contender based on the F-100 AWD hullform familiar to ASC against more modern and possibly more capable designs?
The same issue has been raised in relation to Future Submarine by no less than former DMO Chief Executive Warren King, who has suggested a one-year extension of the Sea 1000 CEP to allow more time for an informed decision to be made.
While the perceived political pressure for selection of the Soryu has abated with Tony Abbott's demise as Prime Minister, it's worth remembering that the CEP expert advisory panel supervising the probity of the collection and assessment of technical data has no oversight of the political factors which may ultimately determine government's choice of its preferred international partner.
Submarines
After marking time for several years, Sea 1000 moved ahead dramatically in 2015 with the launch of a CEP to select an international partner to work with Australia to develop and deliver the Future Submarine.
Contracts involving the CEP were agreed in May/June with DCNS of France and Germany's ThyssenKrupp Marine Services (TKMS), while Japan participated under a government-to-government arrangement. The CEP will help inform a government decision between Japan's Soryu class, the Barracuda Shortfin conventionally-powered version of DCNS' Barracuda nuclear attack submarine, and an Endeavour variant of the developmental Type 216 proposed by TKMS.
Under the CEP, all three participants were asked for pre-concept designs based on meeting key capability needs; options for design and build overseas, in Australia, and a hybrid arrangement; Rough Order of Magnitude costs and schedules; and positions on key commercial issues such as intellectual property rights and the ability to use and disclose technical data.
A decision is expected in mid-2016.
---
"A decision is expected in early 2016 on the competitive tender between Navantia and Daewoo for Sea 1654."
---
Replenishment ships
A decision is expected early in 2016 on the competitive tender between Navantia and South Korea's Daewoo Shipbuilding and Marine Engineering (DSME) to provide replacement replenishment ships under Project Sea 1654 Phase 3 for the 25,016 tonne HMAS Sirius and the 18,221 tonne HMAS Success.
The limited tender excluding Australian entrants was announced in June 2014 and in October that year both companies received partial risk reduction contracts to complete their respective designs to meet RAN requirements.
A year later, at Pacific 15, both companies revealed further details of their respective proposals.
DSME's proposal is based on a 25,800 tonne, 180 metre variant of BMT Defence Service's Aegir 18A, itself a development of the Aegir vessels adopted and adapted by the UK Royal Fleet Auxiliary for its Military Afloat Reach and Sustainability (MARS) tanker program, and the Royal Norwegian Navy for its logistics support ship requirement.
Navantia's competing design is based on its 19,500 tonne combat replenishment ship Cantabria but at 173.9 metres is 3.5 metres longer.
Cantabria entered service with the Spanish navy in 2011 and spent nine months on secondment to the RAN in 2013. As pointed out by Navantia executives, RAN personnel are familiar with the ship and a number of ship systems are similar to those aboard the RAN's Navantia-designed Land Helicopter Docks (LHDs) and AWDs.