The first two of Australia's Lockheed Martin F-35A Lightning II fighters are now in everyday use for training in the US. The first Australian pilot has already completed flight training and the second is now part way through his course.
Nigel Pittaway | Melbourne
More RAAF pilots and a significant number of maintenance personnel will follow in their footsteps and, with these milestones achieved, focus is now on planning for the migration of training to Australia.
However the 5th generation capabilities offered by the F-35A will bring a significant change in the training paradigm and legacy training systems and procedures will give way to a future training, test and evaluation philosophy that will maximise the use of simulation.
There is no single-seat joint strike fighter, which means (from a pilot's perspective) more training will need to be migrated to simulators – both for flight training and for the development and exercise of fighter combat tactics.
US Air Force experience with the F-35 training continuum in a mature state results in the order of 18 flights and 42 simulator rides, compared with more than 70 flights and around 20 simulator sessions traditionally employed in the training of F-16 pilots.
Squadron Leader Andrew Jackson has now completed his F-35 flight training at Luke Air Force Base in Arizona and has now moved to Eglin AFB in Florida where he is instructing on the Lightning.
The second pilot, Squadron Leader David Bell was in the ground phase of training at Luke AFB in late June and is on track to begin flight training as these words are read.
The two aircraft owned by the RAAF form part of a pool of aircraft at the F-35 international training centre and are flown by students from all nations currently introducing their F-35s to service. To date this includes candidates from the US, the Netherlands and the UK and on May 15, SQNLDR Jackson became the first Australian pilot to fly an Australian F-35A, during one of his final sorties as a student.
By late June the two Australian jets have flown in excess of 180 hours and are currently flying at a rate of around 20 hours a month.
The first two RAAF jets are due to arrive in Australia at the end of 2018 and the training system will begin ramping up to support them and other aircraft as they arrive, ahead of Initial Operational Capability (IOC) in 2020.
In the Australian context IOC will represent the conversion of the first fighter squadron (3 Squadron) from the F/A-18A Hornet to the F-35A, but also the mature training capability of No.2 Operational Conversion Unit.
Part of the preparation for the migration of this training to Australia is the extensive redevelopment work now underway at Williamtown, which will include specialised F-35 training facilities and equipment. A formal sod-turning ceremony began construction work at the base in early May and further training facilities will later be constructed at Tindal to support No.75 Squadron operations in the north of Australia.
---
"By late June the two Australian jets have flown in excess of 180 hours and are currently flying at a rate of around 20 hours a month."
---
Altogether, over $1.5 billion is being spent on infrastructure around the country to support the F-35A, around $950 million of this at Williamtown alone.
Two Full Mission Simulator (FMS) domes are due to arrive at Williamtown in the first quarter of 2018, in time to support the first two aircraft and initial crews and an additional four will be installed around the second quarter of 2020.
Two further FMS systems will be installed at Tindal in the 2022 timeframe as 75 Squadron begins operations from the base.
At the present time the acquisition of a Deployable Mission Rehearsal Trainer (DMRT) for Tindal is also planned for the 2022 timeframe, but Air Vice Marshal Chris Deeble, F-35 Program Manager notes that this is under review, to determine if it will achieve what is intended.
"We are looking at whether we need more FMSs rather than a DMRT at Tindal, because the intent is to operate F-35s in a four-ship and you have to be able to create that effect in training," he said. "We're also looking at how each of these simulators might be linked so we can establish the right force mix."
Three aircraft system maintenance trainers will also be installed in the Integrated Training Centre (ITC) within the 2 OCU facilities at Williamtown around 2017/18 to support training of ground personnel.
These will be followed by other maintenance training hardware and systems, including one Weapons Load Trainer and an ejection seat training device.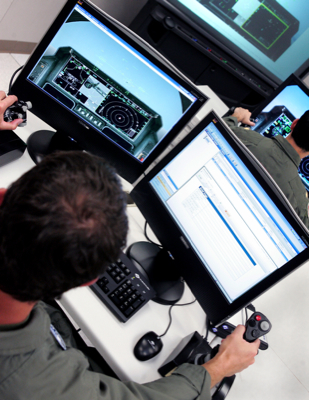 Live, Virtual and Constructive, the future of F-35 training
More than just the increased use of simulation in flight training, US experience with the Lockheed Martin F-22A Raptor has shown that, short of actual combat, it is hard to exercise 5th generation platforms to their full capability.
Even high end exercises such as Red Flag are constrained, because it is both difficult and expensive to generate the number of players required to stretch the capability. In addition it may also be that the advantages 5th generation capability brings might not want to be shared with other nations, for fear of exposing those capabilities and tactics.
It may be argued that the RAAF and even the US forces are behind the game in understanding the value of simulation and also the balance between Live, Virtual and Constructive (LVC) training with the F-35. See P28 for more on LVC.
AVM Deeble notes that it takes a considerable amount of effort and time to put together LVC environments to execute a simulation exercise today and this will be one of the major studies undertaken under Plan Jericho.
"We are behind in determining our concepts around LVC training and we're behind in matching that with technology to enable the creation of those very rich and dense training environments," he said.
"Simulation will now be a critical part of test and evaluation to an extent that it never has before."