News that Northrop Grumman has handed over the first two Triton platforms to the USN is another step towards the long running Australian program.
Naval Base Ventura County (NBVC) Point Mugu is home to the maintenance detachment of Unmanned Patrol Squadron (VUP)-19 DET Point Mugu, the USN's first unmanned patrol squadron. Maintainers are conducting training and tests on the Triton aircraft before it deploys to Guam later this year.
Point Mugu has also completely refurbished an existing hangar that will accommodate up to four Triton aircraft with a 130.9-foot wingspan. The first two Triton aircraft are located at Point Mugu and will continue flight operations there until their deployment.
As per the 2016 Defence White Paper, the Commonwealth of Australia plans to acquire up to seven Triton unmanned aircraft systems for maritime patrol and other surveillance roles.
"At eight million square kilometres, Australia's economic exclusion zone is the third largest in the world, with extensive economic interests and strategic engagements in the wider Indo-Pacific region," Ian Irving, chief executive, Northrop Grumman Australia said. "Only a high altitude, long endurance unmanned aircraft system has the range, endurance and capabilities required for such an exhaustive broad area maritime surveillance mission."
Triton is a high altitude, long endurance autonomous aircraft providing up to 24 hours endurance. Its sensor suite provides a 360-degree view of its surroundings at a radius of more than 2,000 nautical miles. The system has multiple intelligence, surveillance and reconnaissance capabilities that contribute to overall situational awareness of the ADF.
While ADM understands that the Australian program is due to reach a critical milestone sometime in the third quarter of this year, with Gate 2 imminent, Germany has already made the decision to buy the system.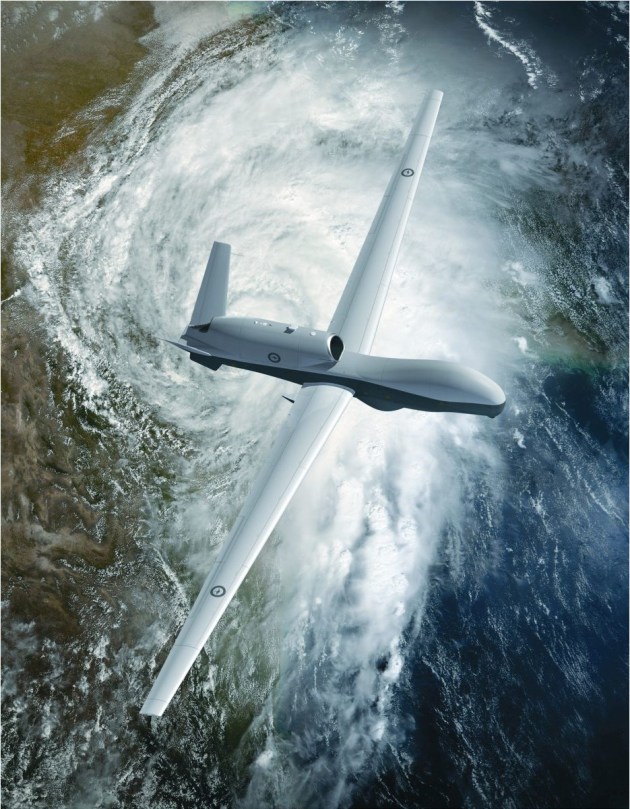 A notification from the Defence Security Cooperation Agency in April outlined the US$2.5 billion German shopping list for the program.
"The Government of Germany has requested to buy four MQ-4C Triton Unmanned Aircraft Systems (UAS), one Mission Control Station (MCS) comprised of one Main Operating Base (MOB) (MD-3A) and one Forward Operating Base (FOB) (MD-3B), ten Kearfott Inertial Navigation System/Global Positioning System (INS/GPS), units (two per aircraft plus two spares), and ten LN-251 INS/GPS units (two per aircraft plus two spares).  This proposed MQ-4C UAS sale will be a modified version of the USN Triton configuration. 
"Also included is one Rolls Royce Engine (spare), communication equipment, support equipment, mission planning element to include Joint Mission Planning System (JMPS) Global Positioning System (GPS) items, Communications Security (COMSEC) equipment, mapping, training, support equipment, consumables, spare and repair parts, tools and test equipment, ground support equipment, flight test support, airworthiness support, personnel training and training devices, applicable software, hardware, publications and technical data, facilities and maintenance support, US Government and contractor engineering, technical, and logistics supports services, and other elements of unique engineering efforts required to support the integration, installation and functional platform compatibility testing of Germany's indigenous payload and other related elements of logistics and program support," according to the notification.
This begs the question: if that is what $US2.5 billion buys the Germans for their Pegasus program, what will the Australian package look like? ADM understands that there are substantial local industry arrangements in place with the German program, most notably with Airbus on the sensor front.
The German program is also subject to its own version of local industry support despite the FMS nature of the program. While the Tritons seen in the US, Germany and Australia may all look similar from the outside, the payloads are set to differ significantly.
Northrop Grumman would not be drawn on the finer details of the Australian program arrangements, either in terms of capability or AIC, so close to a government decision and referred all questions to the USN.
"It's the US Navy's goal to to be as common as possible through life of program," the USN project spokerperson said in terms of the Australian program, while declining to comment on any of the industrial plans in either Germany or Australia.
The USN spokesperson also confirmed that fitting of an airborne gateway into the Australian Triton program was not on the cards at this stage as that technology (BACN) "is an Air Force asset and Australian Triton will be common with US Navy Triton". ADM understands that a few of the Australian Tritons may be fitted with the technology in the future.
ADM will be keeping an eye on the program at home and abroad as details become available.