Director Air Force Ranges Darren Manser delivered a talk on Plan Jericho and the role of Live Virtual and Constructive (LVC) training in a fifth generation Air Force during a plenary session at ASC2017. He was disarmingly frank about some of the challenges that lie ahead. 
"There are some things that LVC can't do for us right now. The 'L' in VC is not something that is technologically possible – that is, putting simulated returns into the cockpit of a fifth-gen platform. Manser said his 'fast jet friends' are crying out for it.
"To be honest we'll not see LVC as a true legitimate replacement for the live fight until we can actually start
virtual and constructive entities into the platform so they can fight them, kill them and then come home for tea and medals."
Other challenges are generating contested degraded and operationally limited (CDO) environments and training with closed loop systems.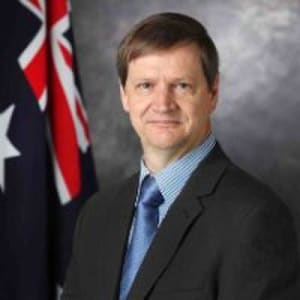 "We have the capability for closed loop systems but we are not doing it in Australia and there are good reasons for that – the capability to perform high-end, highly secure exercises costs a lot of money and it's not something that is particularly attractive or feasible from an Australian perspective."
Manser said the Air Warfare Centre had to focus on developing capabilities for the high end fight. The skills that pilots would gain from their initial training on simulators were standard behaviours the centre expected from operators.
"What we want to do is take already highly competent operators and then bring them together with other platforms such that they can fight in an integrated way – we have to change the culture of the organisation."
Continuing on this theme, he said one easy way to create a conversation in the room with the fighter pilots he worked with was to say, "you don't need high fidelity simulators".
"They believe it's very important to put your hand on the right switch at the right time in the dark under pressure and that is true for skills and drills and blocking and tackling. But if I want them to operate in an environment that is complex, with multiple platforms interacting with Navy and Army simultaneously, I don't need them to be concentrating on hands and feet. I do need them to understand the complexity of the environment that they are in and how they should react under pressure, and I don't need a high fidelity simulator to do that."
Another controversial point of contention according to Manser, was that finite monetary resources created a 'forced choice' situation when it came to the fidelity for simulator acquisition.
"So it's never an approach of acquiring a mix of high and low fidelity simulators, it's more like, 'you'll need to get one less high fidelity sim to get five of those low fidelity sims'.
He said the offers by OEMs of open system solutions that would meet his needs and connect up all the platforms, were only valid so long as standards set by their systems were complied with. "They're not necessarily the same – so we don't have those open systems, we can't connect easily, nor is there a great deal of appetite to drive those things together; I understand commercial advantage, but that is an inhibitor to us in getting a solution."
Cyber security was another problem that needed to be overcome.
"If you have a virtual system that truly replicates the live one, then it's subject to all of the same security risks, issues and constraints and that is a huge overhead. If you extrapolate that further to a LVC environment, you have created a vehicle whereby cyber attack can penetrate the live platform."
Manser said the US was investing millions and growing their workforce to combat this but Australia wasn't there yet.
A persistent pool of appropriately skilled personnel to support LVC training was also non-existant.
"I want a persistent workforce of people who can develop scenarios, manage accreditation, and take care of modelling and the security of facilities. That worforce does not exist in the scale needed both now and in the future."
He said the resistance towards LVC that needs to be overcome inside Air Force, and probably more generally, is not the community that will be there when it's implemented.
"The senior echelons have to be convinced that this is a good thing, but by the time we actually provide the solution the next generation will come through and they'll be all over it – we'll be lucky to keep up with the demand."
Manser said apart from JP9711 which is creating the backbone, there were no major programs to drive in-service, massive growth in LVC.
"At the end of the day we have to do it; we will not get the best out of an F-35, or a Growler or Wedgetail without using LVC."