This year's Top 40 Defence Contractors/Top 20 SMEs survey has revealed some predictable business trends, with a slight dip in the total revenue of the Top 40 ($10.197 billion) compared with $10.384 billion in 2016, a 1.8 per cent change.
This result points to the fact that while there may be some major defence projects in the pipeline, this spending is not yet reflected in the revenue figures of Australia's top defence contractors. The buoyant sector of Australia's defence industry would appear to be the infrastructure and related providers who are reaping the benefits of increased investment in the defence estate after a long period of neglect.
A word about the methodology for this year's survey: there were moves last year to have ADM ask a more complex set of questions in our annual survey and to assess companies by a range of criteria not solely dependent upon turnover to achieve ranking in the survey.
Survey respondents this year did not uniformly report Australian industry content, R&D spend and exports. In the interests of readers, we have reported these results as raw data but we have not in any way factored the responses into the ranking of companies in the Top 40, which continues to be based solely on turnover in Defence-related business in Australia and NZ.
We will however continue to collect this data in future years to help build a more comprehensive picture of Defence industry.
Defence SMEs
At first glance, the raw numbers from this year's Top 20 Defence SMEs survey look less than uplifting with the total down from $800 million in 2016 to $672 million but the lower figures need to be understood in the light of the unusually high number of companies exiting the SME list in favour of the Top 40: Cubic Defence (Aust and NZ), G H Varley – Defence & Aerospace, TAE Aerospace and L-3 Communications are all now exclusively Top 40 participants only.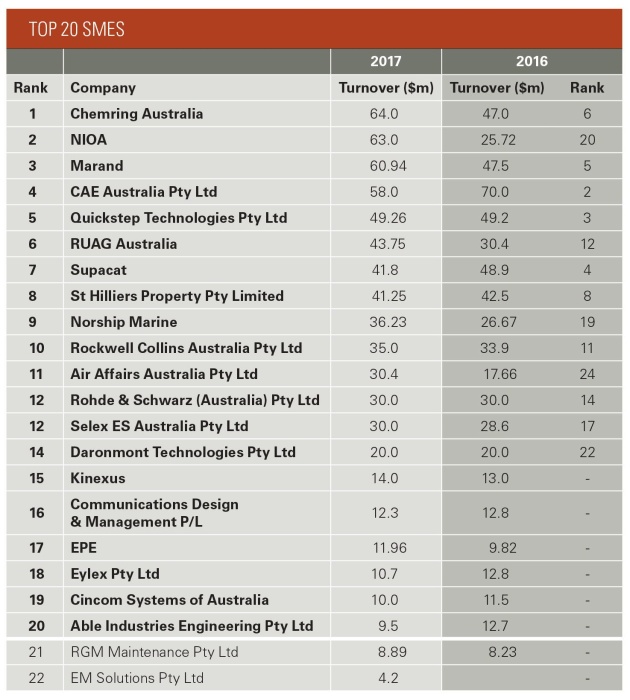 Of the 20 companies ranked in the SME survey, 12 are Australian-owned, either privately held or publicly listed. The top Australian-owned SME is NIOA with a turnover of $63 million in defence business followed by Marand with $60.94 million.
Within the smaller SME ranks, some companies declined to participate for legitimate business reasons.
For the record
In assembling the ADM Top 40/Top 20 SME surveys, each year there are relevant takeovers, mergers and joint ventures to take account of:
UGL Defence figures include Naval Ship Management, which is a joint venture between Babcock and UGL.
Sikorksy Helitech, no. 29 in 2016, has been taken over by Lockheed Martin
Lockheed Martin no longer includes the Leidos business, their former IS&GS business 
L3 Technologies is a combination of three L3 businesses: L3 Micreo, L3 Australia and L3 Oceania. L3 also provides a number of FMS programs such as C27J to the ADF but these are not included in this submission as they are not contracted through the L3 Australian entities
For three years, Cubic Australia and Cubic New Zealand had separate entries (2014, 2015, 2016) but they are now combined for the first time. With the combining of the Cubic entities, the company has graduated from the SME ranks
DISCLAIMER
While every effort has been made to ensure the accuracy of the information published in ADM's Top 40 Defence Contractors/Top 20 Defence SMEs surveys, the publishers accept no responsibility for any errors or omissions that may have occurred. Companies wishing to participate in future surveys should contact the managing editor Katherine Ziesing or the associate publisher Kylie Leonard. The survey is published for the interest of ADM readers and defence industry analysts. Participation is free.
Copyright notice
The information contained in ADM's Top 40 Defence Contractors/Top 20 Defence SMEs surveys is copyright and may not be republished without the permission of the copyright holder, Yaffa Media Pty Ltd. All enquiries: Katherine Ziesing, Managing Editor, e. katherineziesing@yaffa.com.au t. 02 6203 9535
Any person or organisation quoting information from these surveys must acknowledge Australian Defence Magazine, December 2017/January 2018 Top 40 Defence Contractors/Top 20 Defence SMEs surveys.