The first of three Dassault Falcon 7X aircraft for the RAAF's Special Purpose Aircraft (SPA) fleet, serial number A56-001, touched down in Canberra on April 16 following its delivery flight from the US.
As ADM reported recently, the aircraft had flown to Dassault Falcon Jet's delivery centre in Little Rock, Arkansas, on March 30 from the manufacturer's production facility in Bordeaux, France.
The aircraft is the first of three to be operated by No.34 Squadron from RAAF Fairbairn, Canberra, and will replace a similar number of Bombardier Challenger CL604s, which have been in service since 2002.
In a media release, Defence said that the Falcon 7Xs will provide a larger passenger load (up to 14 compared with the Challenger's maximum of nine), modern communications equipment and increased range and endurance.
"The Falcon 7X is an advanced business jet designed and manufactured by Dassault Aviation (and) the jet has a standard crew of three (pilot, co-pilot and crew attendant) and can carry up to 14 passengers," 34 Sqn Commanding Officer, Wing Commander Jason Pont, said.
"With a maximum operating speed of Mach 0.9 and a range of up to 11,000 km, the aircraft can fly from Canberra to anywhere in the world with only one stop. Its ability to land at almost any airfield provides notable regional and remote airfield accessibility."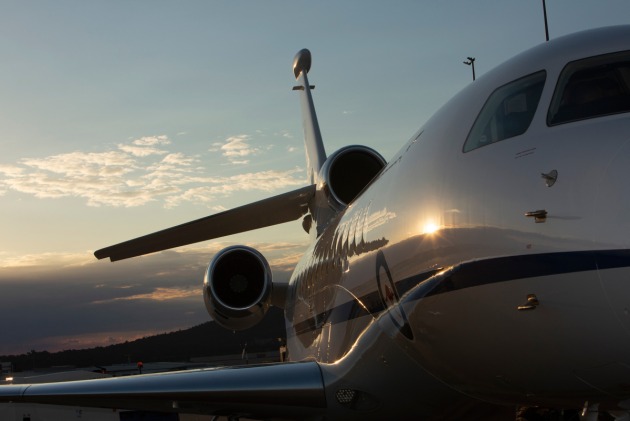 The new three-engine Falcon 7Xs will supplement 34 Sqn's two existing Boeing 737-BBJ aircraft which have, until recently, been mostly used to transport senior government officials and other VIPs on the longer-haul routes throughout Australia and the rest of the world.
According to Defence, the two BBJs can carry a crew of six (pilot, co-pilot and four cabin attendants) and up to 30 passengers, over distances up to 11,390 km.
ADM understands, however, that these aircraft will now be reconfigured for regional SPA operations and the long-haul role will be undertaken by the seventh Airbus KC-30A multi-role tanker transport (MRTT). This aircraft is an ex-Qantas A330-200 which is currently having a VIP interior installed in the forward cabin, prior to delivery to Australia later this year.
This aircraft will still be fitted for air to air refuelling operations and, when not required for long-haul VIP tasking, will be used in this role (together with strategic airlift missions) alongside the RAAF's other six KC-30s in service with 33 Sqn at Amberley.
According to Defence, the SPA fleet will continue to be maintained by Northrop Grumman Australia.