News that the final phase of Land 121 has been announced is very welcome. The final tranche of 1,044 additional new-generation medium and heavy trucks, 872 modules and 812 trailers, worth a total of $1.4 billion under phase 5B has been a long time in the making.
The additional medium and heavy trucks and their associated modules and trailers will facilitate logistics support through the movement of assets and supplies in combat, humanitarian, natural disaster relief and training, according to the government announcement this week. 
Deliveries will start in 2019 and will run to 2024.
The new vehicles will build on the fleet currently being delivered by Rheinmetall (trucks and modules) and Haulmark Trailers (trailers) along with a significant Australian supply chain.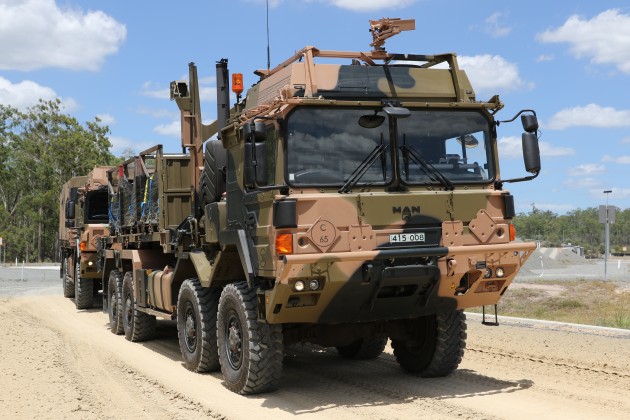 Rheinmetall is partnering with a range of domestic companies, including Varley in Newcastle, Holmwood Highgate in Brisbane, and ECLIPS in the ACT to supply the modules and trailers.
"This project marks the final government approval for the Land 121 program, which is replacing the ADF's legacy fleet of ageing vehicles and trailers, many of which are in excess of 30 years old and becoming increasingly costly and difficult to maintain," Minister for Defence Industry Christopher Pyne said at the announcement at Haulmark Trailer's Brisbane facility.
"Australian industry involvement is in the order of half a billion dollars for acquisition, with ongoing sustainment being carried out by Australian or Australia-based companies."
Delivery under Land 121 Phase 3A of some 2,146 4x4 and 6x6 unprotected Mercedes Benz G-Wagons was completed in 2016, whilst Land 121 Phase 3B acquired 2,536 trucks and 3,858 modules from Rheinmetall. Land 121 Phase 4 sees 1,100 Hawkei replace the balance of the Land Rover fleet through a $1.3 billion contract with Thales Australia.
ADM Comment: The new fleet of Army vehicles under the various phases of Land 121 has been a long time in the making. I remember one of my very assignments with ADM was heading out to Haulmark Trailers to see then Minister for Defence Dr Brendan Nelson and DMO CEO Steven Gumley sign contracts for the program in 2007. 
While both Air Force and Navy have seen a significant recapitalisation of their platforms since the 1980s (think the evolution of the fast jet fleet over that time alone), Army has been using trucks that were manufactured before I was born. In many cases, sustainment efforts have seen the manufacture of one-off parts as the OEM doesn't support the models any more.
As a participant on the Defence and Industry Study Course (DISC) last year I was lucky enough to head to the School of Transport to have a drive in the old and new transport vehicles along with a few other vehicles, like the Bushmaster and Hawkei. The difference could not have been starker. Sitting in a Unimog versus one of the new Rheinmetall vehicles, they were worlds apart in every way; technology, comfort, drivability.
There are of course changes to be made with the next generation of trucks. They are so large that Army now has to deal at working at height OH&S concerns. The load handling system is now automated at a much higher level, meaning training has needed to change significantly to accommodate this.
At the end of the day, Land 121 has been a long journey and is now at the point of delivering an excellent capability to Army.